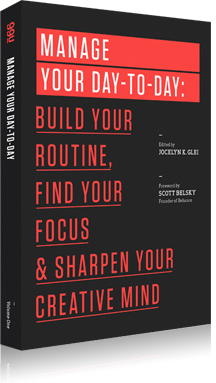 Last month I read Manage Your Day-to-Day: Build Your Routine, Find Your Focus, and Sharpen Your Creative Mind by assorted authors. Each chapter was an essay written by productivity/life-hacking experts like Leo Babauta, Seth Godin, Scott Belsky etc.. It was a great read considering it had helpful, distilled, ideas by great leaders in this area, all for only $4 on Kindle.
The book itself is meant to help creatives harness their energy to get their work done. Writers, designers, speakers etc sometimes have a hard time getting to the "real work" because they're too busy responding to emails or putting out fires set by other people. Here are a few of the quotes that really stuck out to me:
Gretchen Rubin On Writing
"Because I write every day, no one day's work seems particularly important."
"What I do every day matters more than what I do once in a while."
Seth Godin on Honing your creative practice
"Because lots and lots of people are creative when they feel like it, but you are only going to become a professional if you do it when you don't feel like it."
"The reason you might be having trouble with your practice in the long run—if you were capable of building a practice in the short run—is nearly always because you are afraid."
"These people sabotage themselves because the alternative is to put themselves into the world as someone who knows what they are doing."
Tony Schwartz on Building Renewal into your workday
"What's changed is that between digital technology and rising complexity, there's more information and more requests coming at us, faster and more relentlessly than ever."
"Sleep is more important than food."
And my favourite:
"Waiting for inspiration to write is like standing at the airport waiting for a train."
-Leigh Michaels
These essays reminded me of what I already know and have said many times: you have to fight to prioritize the important stuff, even if it's your job to do that stuff. I particularly appreciated the sections on writing. They were a good reminder, that "real" writers don't wait for inspiration to hit, they have to show up every day to "work" too, even if it is their make-shift kitchen table office. Great food for thought.
I recommend it if you're trying to figure out how to manage your physical energy, time or creative energy. It's a steal at $4.03!