Recently my husband and I have been thinking about living more simply. From my perspective it comes from realizing that I have too much choice in my life it's come to stress me out. I've written before about decision fatigue which is something I am still learning to manage. My husband is realizing that we just keep getting more stuff, more books (which we love), more things and we have limited space in our 5 1/2 downtown Montreal. When it comes time for us to get a bigger place we want it to be because of a growing family, not because of growing stuff.
I recently leafed through Organized Simplicity by Tsh from Simplemom.net and found it pretty refreshing. Once we get back home from living in suitcases all summer, I'd like to take some time to start giving stuff away starting with another clothes swap (and promise myself I wont take anything unless it's a MUST).
I posted a question on Facebook to see if people had any helpful suggestions from my friends about how to manage this. In my mind it's not just about the stuff I have, it's also about paring down my life to fit in more of the things I want to do and require a lot less mental energy to do it.
Working full-time while being a whole person with likes and dislikes and hobbies and friends and a husband is hard even when your husband does as much work around the house as you do!
As I read some of those responses they were all mostly helpful but I realized none of them were addressing my real problem entirely. Some shared that they had anxiety over a scarcity mentality, as if if they gave away their things they could never get something like it back. I totally get that perspective. But more real is this question:
How do learn to want less? How do I learn to care less about things that are being marketed to me as important?  Why do I want ALL THE THINGS?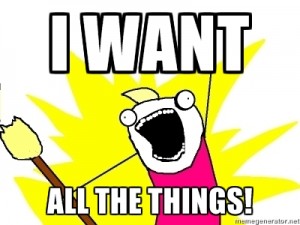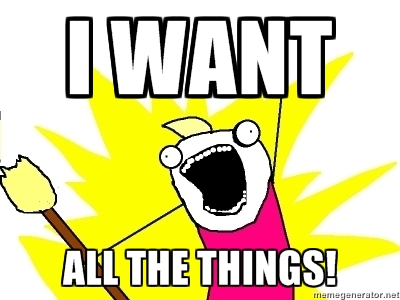 I talk about changing habits often on this blog but I rarely talk about changing hearts and desires. One does not simply just change one's own heart. I know wanting certain things isn't bad necessarily. In this case, sometimes I think the underlying want in my life is controlling and driving my decisions which is dumb.
This essay entitled "It's Not Me, It's the Mall" and a few other articles (that I'll post later) lead me to believe that this problem of the 'tyranny of choice' isn't just affecting a few of us.
Practically, since I am living out of a suitcase this summer, I'll have an easy go of it: anything left in my drawers at home by the end of the summer is gone. Anything I didn't wear regularly this summer in my suitcases is gone. Simple? Probably not. It will likely be embarrassingly difficult. But it's a start.