Shortly after I posted my first review of Zevia vs Krisda, I received a reply on Twitter inviting me to try more flavours of Zevia, for free.

Obviously, I took them up on it, since a can of the stuff costs $1 at the local grocery store. I requested Cherry Cola, Black Cherry, Dr. Zevia, Ginger Root Beer (say what?), Gingerale and Cream Soda. As I was emailing back and forth with Kipling (their digital marketing manager), she explained something that was pretty helpful and very fair:
"We understand many people come to Zevia because they want to "replace" their bad soda with healthier Zevia. Sometimes this leads to frustration because our Cola doesn't taste like your old brand. We're certainly not trying to mimic the competitions' flavor, but we know there is an expectation that our Cola taste like some other brands!"
I did expect this! I realize now it's not very realistic.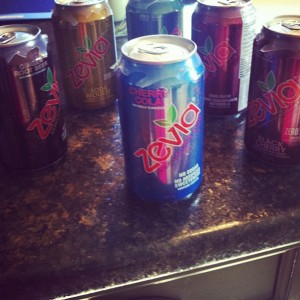 Back to the testing. Now, I didn't sit down and drink them all side-by-side again, and I didn't have Krisda to compare it to this time. It's not a scientific study, people! But I think it is helpful to know that I enjoy these drinks more and more when I'm not drinking actual diet pop. These drinks taste better when your tastebuds are expecting the Stevia/Erythritol combo. You can taste the flavour more (though the sweetner is still evident, but that's true of diet pop, too, we're just more used to it).
Ok, enough with the disclaimers.
Zevia (accidentally, or super creepster-like) got a big point because the drinks arrived on my birthday (yay!).
The first one I tried was Cherry Cola. Right off the bat, I liked it more than the Zevia cola. In fact, I really liked it. The stevia taste was still there, but I'm pretty sure (but again, wasn't testing it right side-by-side) that the cherry cola flavour was more evident than the cola.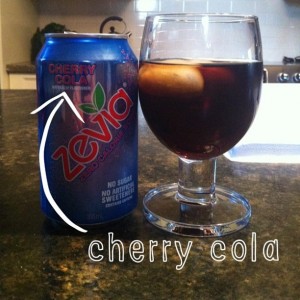 Next, I tried the Black Cherry. I brought it to the Versteeg Picnic. I forgot to take a picture. I was a bit surprised Zevia had Cherry Cola and Black Cherry. They're pretty different because I didn't really like the Black Cherry (go figure).
Next, I tried the Ginger Root Beer. I had no idea what it was going to  be like. Gingerbeer? Rootbeer? I found it started off more like rootbeer and ended with a bit of ginger. You might not even notice if you didn't know that's what it was called. I liked it fair enough.
I don't remember the last time I had Cream soda but it was my favourite flavour as a girl. Two guesses why (it was pink and tasted like it!). While I was sad it wasn't pink when I poured it (my first guess was the gold can), it was good! I really enjoyed it. Though I still partly can't deal that it isn't pink or at least clear. Sigh.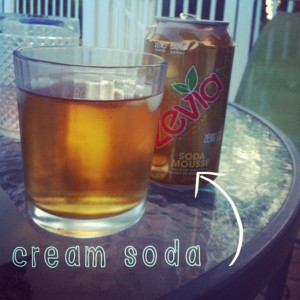 Last up was the Gingerale. I'm glad I saved it for last because I ended up having it on a day I had an upset stomach, which, if you know me, is frequent. I consume a decent amount of Gingerale when I'm sick, but often it's hard to find the diet stuff. Now I don't need to! Plus it's got Vitamin C in it (all of the drinks do).

So there you have it. Guess what? I've hooked you guys up with a giveaway. Zevia is going to give 5 vouchers for a 6-pack each. That means five of you can win! The only entry that is mandatory is leaving a comment. Note that Rafflecopter uses Javascript, so for you iPad/iPhone users, you might find it tricky.