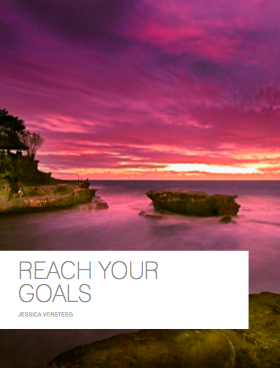 It's been a few weeks since my Easter Weekend Project and this past week I had some time to look over the book, make some suggested edits as per my brother's recommendations. Willy took a quick look over it, gave me a few recommendations and the next step is to edit it for reals. I'm still debating whether I'll let Willy edit it or not. Being edited is hard. I haven't decided whether opening myself up to his criticism is better than someone else's. He's already read it now, so I guess he can already see it for what it is before being editing.
Both my husband and my brother agreed it's something I can be proud of. This makes me smile.
Right now it's a series of steps to help you dream big, decide on your bucket list goals/life goals and start making them happen — nothing particularly new for this blog except for all in one place. The working title is Reach Your Goals but that sounds pretty lame and self-help-y. I'm open to better suggestions.
"You've written a lot this year!" Willy pointed out. I hadn't really thought about it, but once I did, I realized that yeah I have written a lot. As it stands, this ebook is roughly 10,000 words. Another one I've been working on for the last 8 months (as ideas come) is 20,000 words. The novel I wrote in November was roughly 50,000 words and none of this is including all of the blog posts I've written and personal journaling I've done. The best part is, my life doesn't seem to be interrupted by all this writing.
I'm celebrating a little bit in my heart as I write this for having been able to so easily work toward this goal of writing regularly.