If you've been following me on Instagram or Facebook at all lately, you'll know that I got into colouring this summer. I first saw an article about how it's the new thing for adults (mostly women), and I immediately knew I'd love it. But I didn't go out and get a book because I had just spent a bunch of money on sewing. I have this tendency to start projects and not really finish them — you may have noticed this as you've followed this blog.
Finally back in July, I was feeling pretty crappy and in need of a vacation from my life and I was staying at my in-laws. I was perusing a Chapters and I just went for it. It had been months since I was ogling these books.
I started colouring and I don't think I stopped for weeks. Those few weeks I was at my in-laws it was basically all I did every waking moment. I would nap Jack, change him, feed him, and otherwise let my in-laws play with him any other time he was awake. Call it neglect, or self-care, or whatever, this mama got a holiday and it was BLISS.
Most of these colouring books claim they're for stress, or zen, or mindfulness or whatever. There's lots of articles claiming about the anti-stress benefits of colouring and why so many people are taking it up. I've heard of girls getting together to having colouring parties, and other people like me do it while watching TV or in church (It helps me focus!).
Why do I like it?
1. It keeps my hands busy
I enjoy doing two things at once- watching TV and colouring, listening to podcasts and crocheting, listening to music while cooking. Colouring is a great mix for TV and podcasts because I don't need to focus so much on the craft, unlike crochet. I may have coloured with a friend while FaceTiming before….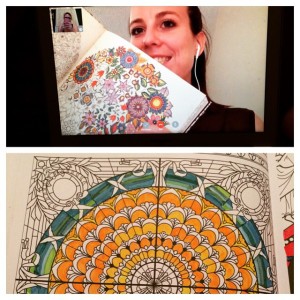 2. It helps me think
One of the surprising benefits for me was how much I ended up thinking and processing while I was colouring. If I sat quietly and focused on the colouring, I would think through hall kinds of different life problems etc.
3. It stimulates my creative side
I'm a creative type who likes pretty things and so this has been the perfect fit for me. It doesn't require too much concentration (like crochet) and I have all kinds of control over it because it's easy (unlike sewing. Or it has yet to become as easy as colouring). I was never great at doodling because things didn't always come out pretty. But I can colour nicely!
4. It's helping me learn to just be.
As I sit and colour, it's challenging me because I'm not doing anything important. I'm not changing the world, raising a child OR worrying about not doing these things. I get to sit quitely, enjoy life and beauty, and just be. It's really good for my soul.
Some of my favourite books are: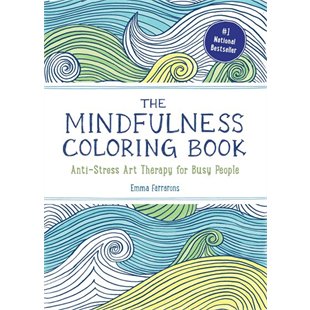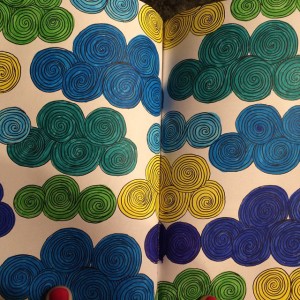 It's pocked sized so its easy to stick in your purse and do on the go. I only have a few more pages and I'll be done this one!
This one is based on actual stained glass windows in churches and libraries. There is a legend at the back of the book to tell you where each is from. I usually look up the original on google images and copy the actual stained glass.
Try it out!
Chapters/Indigo have a great selection that you can
check out online
. And if you're a dude that thinks it might be fun, don't fret. There's one on
cities
and a new one on
Game of Thrones
just announced. Or you can find some free printables online to test drive the idea. I prefer using markers but lots of people use pencil crayons (apparently this is a Canadian term? I guess it's coloured pencils for my neighbours to the south).
Enjoy!