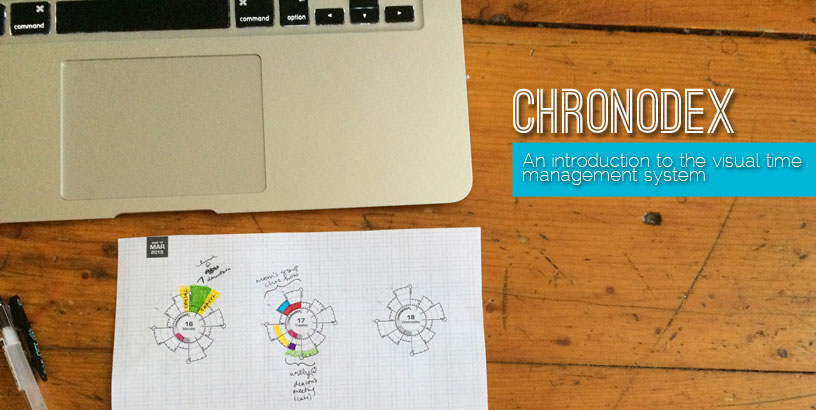 There are two places I get good ideas about my life: Pinterest and my husband. This week my cousin-in-law (is that a thing?) pinned a picture of the chronodex/hyperdex/spiraldex and if you're looking at these for the first time you're probably thinking, "How the heck does this work?"
As I started googling it I found out a few things:
It's time management for visually oriented people.
It's created by Patrick Ng at Scription
Chronodex is the original but since then people have adapted it to suit their needs. Now there's hyperdex, spiraldex etc.
It's super useful if you want to track how you're multitasking/layering OR track different schedules
How do you use it?
CHRONODEX
Let's take a look at the Chronodex first. It's fashioned after a clock and depending on the version you have it has 12h-24 on it. Basically, you colour in when you're busy either before your day starts or after to track what you did. I usually did this with my Google Calendar at work. In some ways it's the same as having a Google Calendar or using multiple calendars on the same view, except that this is for people who like to use paper and probably those who like to make things pretty. 
What's very different from a clock (and from the hyperdex & spiraldex) is the different widths of certain hours. This is how I'mJulie explains it in her review:
Many people wonder why there are 3 different lengths to the time section (short, medium and long). The idea behind it is quite smart: It's made for all you multi-taskers out there. When you are doing a task that can not be mixed with anything else (like filming a video, creating an outline for your future online course or writing a blog post) you will fill in the time slot to it's full length (even if the time wedge is shorter, you're allowed to go outside the lines). If the task was something you can mutli-task (like exporting a video while you make lunch) you will color a part of the height of the wedge with one color and the rest with the other (to represent 2 types of tasks that you did during that piece of time).
In the above picture I was trying to track when Jack eats and sleeps so I can plan what I do during or around those times. The blue is when he naps (though not nearly as long as an hour). But my plan got broken down because I couldn't quite figure out the chronodex. Do I colour outside the line? Plus, it has aspects of the spiraldex where the hours build on each other like a spiral. For this reason I  the hyperdex.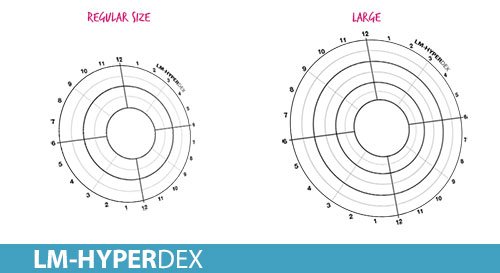 HYPERDEX
The hyperdex was derived from the chronodex by DIYfish. It features the 24h clock which is why I like it. It has 24 slots around and multiple rows which enables better layering/scheduling tracking (in my opinion at least).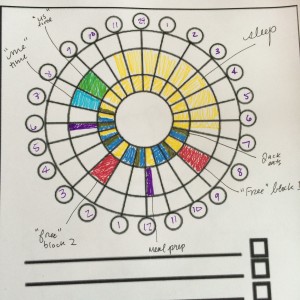 Here's what I threw together in terms of a typical day for Jack and I.I used an image I found on Google images.
His eating schedule is determined by when he wakes up and then follows 2h after, then every 3h, then kind of whenever come the evening (usually 2h-1h). So if we wake up at 7am then it goes 7,9,12,3,5,6 then he's down for the night. It's kind of odd maybe but that's what he seems to like and it works fine for me. We're still working out regular nap times and the last week he's only been napping for 30 mins so we'll work on that.
The smallest circle is Jack's life, the next one out is me. If I want to build a routine based around morning, evening and his nap times, this works well as a visualization tool for me. I just do that stuff in the fuchsia (it looks more red here) block.
SPIRALDEX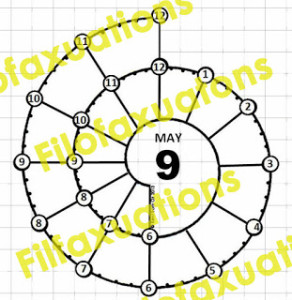 The spiraldex has 24h in it but only one row, so if you want to track layering, then you're on your own to divide the boxes. The spiral is also smaller than the full 24h circle which may appeal to you for whatever reason. Other than those features it works the same way.
More reading
If you want to know more you can check out these links:
So, do you think you'll make use of this? I'm still wondering if I'll like it.