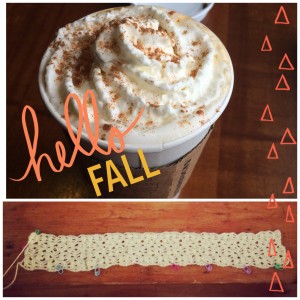 There's something about the imminence of fall that just gets my gears going (in a good way). Suddenly, I got my game face on and I'm crocheting again, and blogging, and reading, and being a contributing member to society. Why fall? Especially when fall is usually the time when my brain starts going to mush and my soul starts getting sluggish because winter is coming (you have to whisper that word). I even read an article this week about how this winter is predicted to be even worse than last winter.
Sweet Jesus, have mercy.
But let's not think about that. Let's go into our happy place of Pumpkin Spice Lattes (HELLO, I HAVE MISSED YOU!), spicy smelling candles, cool breezes, pants, and cozy sweaters but no need of a coat yet. Automne, je t'aime.
Imminence & Change
W and I have been thinking a lot about change and imminence lately, mostly related to becoming parents. When else in life do you have to wait a long time for a change that WILL come? Even with marriage, graduation, etc. there's the (unfortunate) slight chance it wont happen. But at this point, I will give birth. Thanks to modern medicine there's almost no chance we'd lose the baby in the process.
So we sit here and wait, try to expect and prepare for the inevitable. It's kind of a mind game.
We did our wedding a little non-traditionally. We had a morning service, lunch reception, no dancing party or anything. When the MCs invited my parents up to give their parental speeches, my mother shot me surprised look and a glare and mouthed the words, "You didn't tell me I was doing a speech!"
She was right. I had assumed. She knows convention and tradition. I had confirmed with my dad, but not my mom. Later, mom explained that because we had done enough things differently, she didn't assume anything would be the same. Oops.
But no one at the wedding had any idea my mom composed her Mother of the Bride speech on the spot. I wish I had it on video because that was the best speech that has ever been winged.
A year later, my older brother was about to get married and I get a text from my mom thanking me for forgetting to tell her about the speech part of my wedding. The imminence of her delivering a speech at her first-born son's wedding was eating her alive. She had been up at 4AM most nights trying to think of what she would say.
I can adapt pretty easily; I think it's one of the positive sides of having moved so many times as a kid. But staring down the barrel of a proverbial gun to watch change come at you is a bit of a different animal.
So now, I'm trying to enjoy the things that have not yet changed: like being able to get 8h of sleep, do what I want (mostly) whenever I want, and not having someone depend on me for their entire existence.