Today was day 10 of the smoothie challenge. So far, I've had good smoothies and some bad smoothies. I'm quickly realizing that it's pretty easy to throw a smoothie together when you have an immersion blender.
A friend asked me today if I feel better after having daily smoothies. I don't really notice a difference, but maybe that's because I also haven't stopped eating chips? Probably has something to do with it. BUT I'm getting more good stuff in my body at the same time. Some days the only veggies I'm getting is red pepper on the pizza I'm eating, which we all know is BAD. So for the last 9 days, I've been getting my fruit and veggies in liquid form and that feels good.
On the other hand, I haven't ran once this week which doesn't feel as good. Also, the Habs lost that series. Boo.
So far I have two favourite recipes. The first one was on the first day that I put together: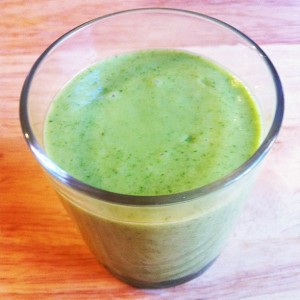 Tropical Lagoon
1/2 avocado
1c chopped spinach
1/2 frozen banana
1c coconut milk
~1/2 can  chopped pineapple + juice
1T flax seed
The second one I found from the Health Is Happiness blog. SO SO YUM. Definitely the top favourite. It's a must try.
Sun Kiss Smoothie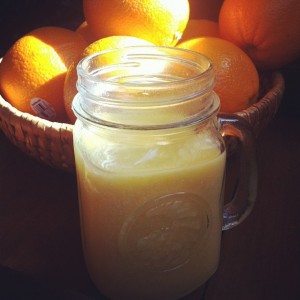 1 orange
1 mango
juice of 1 lemon (about a 1/4 cup)
1/4 cup cashews, soaked for 30 mins
1/2 vanilla pod, or 1/2 teaspoon vanilla extract
1 cup water
Am I a freak that I have a hard time eating my veggies? Are there other people out there like me? Comment and let me know!