So there I was at EXPO Manger Santé in Montreal a month or so ago and I find myself at this booth that's giving out free chocolate. So obviously I'm right up in that getting a free tester of all of these different kinds of chocolate. Dark chocolate, spicy cinnamon, sprulina, coffee etc. It was amazing. As I talked to the guy (I later learned his name is Jake) wearing this white shirt that HEAT across his chest, he told me about their chocolate. He dared me to try a 100% cacao nib and promised it would be gross.
I've eaten unsweetened Baker's chocolate before. It was revolting. A few months prior I had tried a 90% chocolate bar by Lindt and also found it inedible. My problem is: refined sugar messes with my system. I get dizzy and light headed if I eat it frequently. So I don't. But how do I live without chocolate? I keep to small doses of As Dark As Possible Chocolate.
I took Jake's word for it and Willy and I tried the cacao nib. It wasn't revolting. The 70% chocolate was smooth, like a mousse. It was strong and dark. It was totally different.
I noticed it was sweetened with their own Cane Sugar and so I asked about the glycemic index, which is usually what matters the most to me (I need things with a lower glycemic index than even honey, more on par with agave or even lower). He said they were getting this tested now to be sure but believe the GI is on par with a handful of blueberries. SOLD.
I used to prefer Camino chocolate (which I now find has a bizarre sweet taste, even the dark stuff – but like because its Fair Trade) or Lindt. I had a Lindt square the other day and it was waxy in my mouth. I (snobbishly) gave my second square back because it felt awful in my mouth. I was shocked.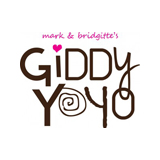 So there you have it. LOVE this stuff. Their motto: "It's food, not candy." It's raw, gluten free, dairy free/vegan, organic, "better than fair trade", low glycemic impact etc. I have no sweet clue why they named their chocolate "Giddy YoYo" — clearly they've never heard of Yo Gabba Gabba or they would have chosen otherwise.
They have kindly given me 6 different flavours of chocolate that usually retail at $5 a pop (pricey, but worth it on so many levels) and a T-shirt. One winner will get the T-shirt and 3 chocolate bars. Another winner will get 3 chocolate bars. As the week (and the giveaway) goes on, I'll post more info regarding their fair trade certification and other helpful tidbits.
The flavours are (not all pictured) Ginger, Orange, Mint, Original, Mocha,  Spicy, Banana,  Spirulina (1G per bar!), Vanilla Pink Salt 85%, 89% Dark, Maca, and Sweet.